We attended our first wedding show today at the Nampa Civic Center. It was absolutely wonderful to meet so many brides-to-be and get a chance to talk with them about our approach to weddings.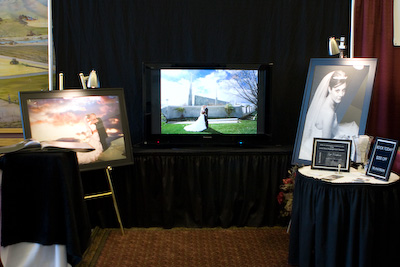 Our only regret is that we weren't able to spend more time with each of you.
We had quite a few brides take advantage of our wedding show special, and to those that did, we look forward to getting to know you better and working with you to make your wedding memorable.
If you didn't have a chance to catch us at the wedding show, there's still time. We still have quite a few wedding dates available for 2008, especially toward the second half of the year.
We only had to turn two brides down, since we were already booked on their wedding day. I always feel bad when that happens, but until human cloning is a reality, we can only take one wedding a day.
Congratulations are in order for Erica Mourton from Mountain Home. She's the lucky winner of our Love Story Engagement Session drawing giveaway. She also happens to be one of the brides who booked us for her wedding, so that's really exciting for us. Erica, we'll send your gift certificate to you in the mail.
It was a pretty tough day for us physically. We're exhausted. But we're also glowing from the joy of meeting so many great people and being able to share our passion with all of you.